Installing the Android 8.0 Oreo update on Huawei Honor 8
The Android Oreo update has been rolled out to Honor 8 smartphones all over the world, but for some reason, mine got left behind. I feared it might be related to my effort with disabling Huawei and Google services on the phone, but as it turns out it was rather easy to correct.
I've lost count of how many times I've hit the "check for updates" button from the system update screen but the response was always the same: no updates. For the last six months, I've been stuck with EMUI 5.0.1 version so today I decided that I was finally going to fix this problem once and for all.
Failing that, I turned to the Honor8 subreddit for a solution and was not disappointed. Turns out the system update screen has another button located on the upper right corner.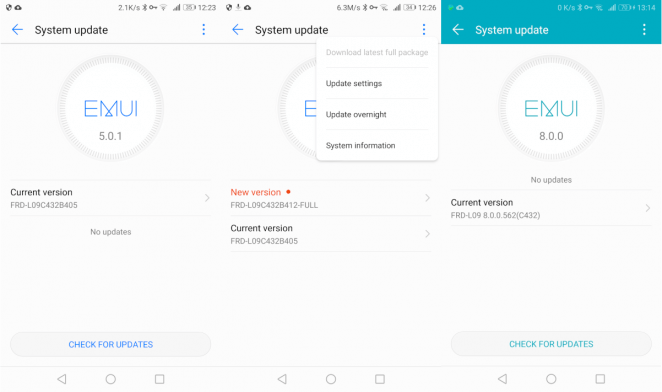 Clicking that button allowed me to download the latest available build (FRD-L09C432B412-FULL). Upon installing the package, I got a new EMUI version and finally received a new Android security patch. However, there was still no Android 8.0 Oreo update to be had.
To receive the Android 8.0 Oreo update I had to install the latest Huawei HiSuite (9.0.2.301_OVE) on Microsoft Windows (oh, the humanity!). After connecting the device to the computer and allowing Huawei HiSuite unrestricted access (oh, the humanity!), an update became immediately available. Finally, the coveted Oreo update was within my reach.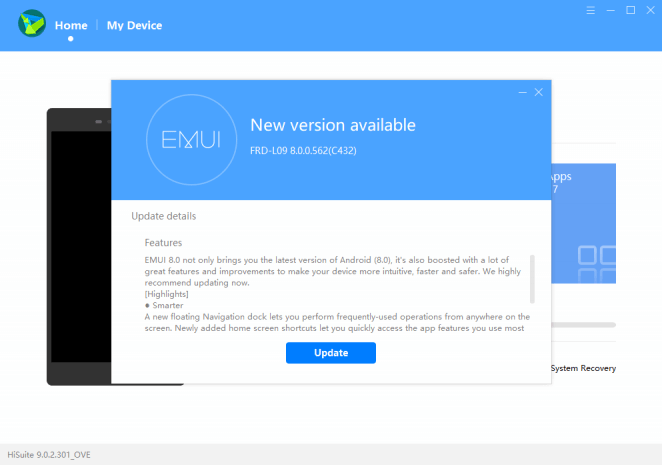 The Oreo update went ahead without any issues and I'm now left with a brand new collection of applications and services I'll be busy disabling in the coming hours.