Switching up cloud providers and deploying Arch Linux
After a few years with the Finnish cloud platform provider UpCloud, I decided to move my services to Germany and try out Hetzner Online. UpCloud has been excellent, but I felt like it was time for a change, and Hetzner Online offers a lot of bang for your bucks.

To shake things up a bit, I decided to end my three-year run with Ubuntu and deploy a new cloud server running Arch Linux. Perhaps Arch might seem like an odd choice for a server distribution, but I like the small base it provides, and I believe it's a good fit for my humble requirements.
I don't have anything against Ubuntu. It's a decent server OS, but after a year of supporting Ubuntu servers and developer laptops in a predominantly Microsoft-based environment, I've had enough. At the moment, anything involving Ubuntu feels like soulless work.
The server configuration took a few more hours than I had anticipated, but I did not run into any major roadblocks. However, I did find something I dislike almost as strongly as systemd-resolved, and its name is systemd timers. Where is this systemd/Linux madness headed? Oh well, at least we can all admire this lean and mean Arch machine: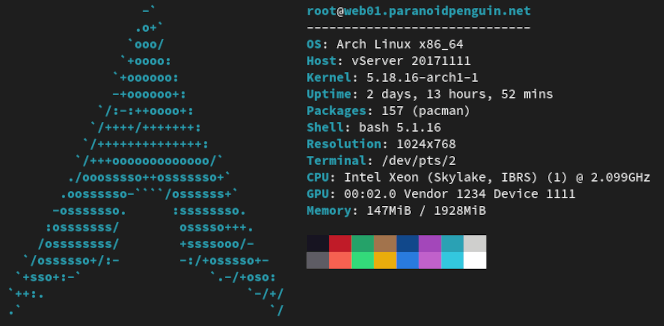 For anyone that might be interested in the configuration, the server consists of the following list of installed packages:
$ pacman -Qqe
base
bind
fail2ban
grub
inetutils
linux
linux-firmware
logrotate
logwatch
mlocate
nano
neofetch
nginx
nullmailer
openssh
rsync
screen
tor
ufw
wget

Now, let's see if my local build and publishing script still works :)